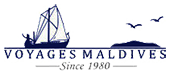 About Voyages Maldives Pvt Ltd
Established in 1980, Voyages Maldives is one of the leading Travel and Tour companies in the Maldives. With over 30 years of invaluable experience in the industry labeled as one of the largest companies of its kind, Voyages offer a wide range of exclusive services to travelers from all around the globe.

At Voyages Maldives, trust, efficiency, delivery and satisfaction are not just mere assurances for our valued customers, but deeply embedded habits we have happily grown accustomed to.

Voyages Maldives Head Office is in Male', the capital of Maldives and our Airport Office at the Male' International Airport ensures that all our operations runs smoothly and on time, especially our ground handling operations at the airport. Our excellent communication facilities interconnect the Head Office staff with airport representatives so that all is smooth for our clients and business partners.

The preferred way of experiencing the most beautiful islands in the World – the Maldives, is certainly in the care of Voyages Maldives.
Contact
Voyages Maldives Pvt Ltd,
Narugis, P.O. Box 2019,
Chandhanee Magu,
Male' 20191,
Maldives
Tel: +960 332 2019
Email: hr@voyagesmaldives.com
http://www.voyagesmaldives.com/