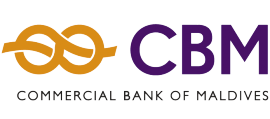 About Commercial Bank of Maldives
he Commercial Bank of Maldives is a joint venture between Tree Top Investments Pvt Ltd (TTIL) and the Commercial Bank of Ceylon PLC (CBC). Currently the bank operates one branch in Male' and one in Hulhumale'.

Commercial Bank of Ceylon PLC was established in 1969, and have since become the largest private bank in Sri Lanka with an asset base over USD 7.5 Bn. Having set a benchmark in private sector banking in Sri Lanka, CBC has set standards, created an identity and forged an unsurpassable trend.

Tree Top Investments Pvt Ltd is a Maldivian investment company founded in 2013, with the vision to combine the extensive expertise of the partner shareholders into one pioneering company. TTIL strive to uncover and secure investments in diverse sectors showing high growth potential in the Maldives.
Contact