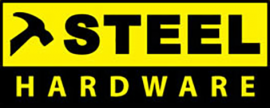 About Steel Hardware
Our story dates back to 2005, from an idea ambitioned by four siblings who translated it into a business venture. We started with a small-scale retail outlet located in the hub of Male', and over time we have expanded our stores along with our portfolio of products and services. Today, we have established a network of clients all over Maldives, strengthening our existence as one of the leading companies in this industry.

Our mission was inspired by the experience and exposure of the 'steel-hardware brothers' in the resort development sector of Maldives. Our vision was to provide specialized and personalized services that will boost and facilitate the construction industry and tourism development sector of Maldives. Until today, providing high quality products and delivering prompt services to the utmost satisfaction of our client, remains our first priority.
Contact
ISLANDMARK HARDWARE PVT LTD
Gr. Floor, Filaa Building 2
Boduthakurufaanu Magu
Male', Republic of Maldives,
Post Code: 20206
Tel: +960 330 8513
Email: hr@steelhardware.com.mv
http://www.steelhardware.com.mv/index.html